The Problem
Almost all small business owners encounter some of the same challenges – ineffective teams, mediocre managers and shrinking budgets.
These were my normal, and they were having a trickle-down effect on my business. Staff turnover was high. Employee morale was low, and I couldn't offer my clients the level of service I was striving for. Add to that, the ridiculous cost of interviewing and onboarding and you have one stressed small business owner.
I'm sure this sounds familiar.
With employee engagement levels only around 33% last year, it's no surprise that many companies are experiencing lower productivity, profitability and customer satisfaction.
It turns out; there's a direct connection to employees' retention and engagement levels and the investment employers are willing to make in their development.
I know what you're thinking. Training is too expensive. I can't afford it.
When really, you can't afford not to.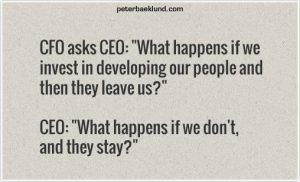 The Solution
Implementing an ongoing development plan will change your business in so many ways. Not only will it help decrease your turnover rates, but it will also build skills, foster a sense of loyalty, increase collaboration, and have an overall positive effect on your bottom line.
There are also ways to create low-cost training programs to get results that make a difference.
Here are a few things to think about before you get you started:
Assess your needs and determine knowledge or performance gaps
Determine your budget
Identify an outside vendor or appoint an in-house manager with training experience
Create a training schedule
Track your progress
Results That Made a Difference
After launching my training program, I immediately saw improvements in my team's quality of work, employee morale, and attitudes (especially with my managers).
I started small with monthly training sessions for the management team and staff. Then I added one-on-one sessions with my supervisors and a monthly management team conference call.
It was truly one of the best decisions I ever made for my business.
Ongoing development has helped us identify challenges, improve skills, and build an effective team that offers the level of service that is unique in my industry.
My team understands that I am committed to helping them grow.
In return, they are invested in the success of Jidan Cleaning.