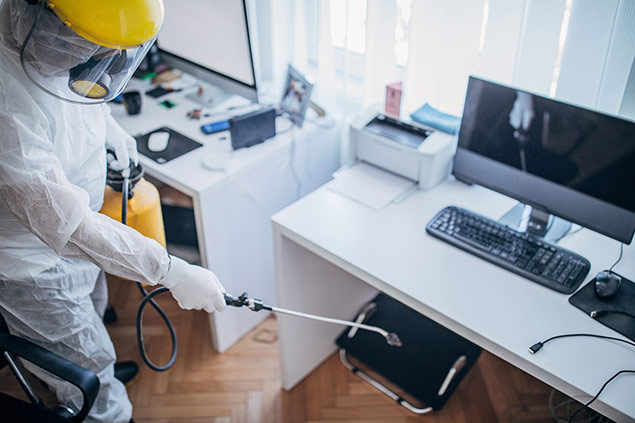 The Clean You Need Now
Whatever the type, size, or needs of your commercial space, Jidan Cleaning has you covered with second-to-none professional cleaning services, including our most innovative: Electrostatic Disinfection. If you're a business manager or property owner seeking a superior level of protection against pathogens at your facility, this treatment is for you.
We're proud to offer Electrostatic Disinfection to our list of services in Pennsylvania, New Jersey, Delaware, and Maryland. Our team members have received extensive training on the use of electrostatic cleaning equipment and procedures with an emphasis on pandemics.
How It Works
This proven method, already in use at many facilities, utilizes an EPA-approved hospital-grade cleaning solution. An atomized spray wraps around unwanted contaminants electrostatically, killing them and leaving a sanitized protective barrier.
Electrostatic disinfection saves time and money on supplies while minimizing germs. Our service reduces the time required to disinfect by up to 50% when compared to conventional methods. Plus, even though electrostatic spraying requires fewer chemicals to treat a wider area, the products employed are guaranteed effective against COVID-19 and many other pathogens. So, you can rest assured that every area of your business is getting the utmost attention to detail.
Reduce Your Risk
At Jidan Cleaning, we follow all CDC guidelines regarding reducing the transmission of COVID-19 and other contagious pathogens, paying special attention to high traffic and high-touch areas. Our cutting-edge, proven methods ensure that every surface is thoroughly sanitized, keeping your business space safe for your team, clients, and customers.
Contact us to learn more about how this advanced and timely service can benefit your business today.