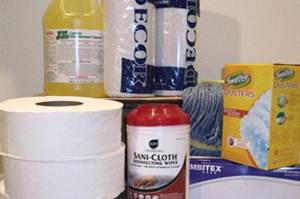 We'll venture your office manager loathes losing valuable work time by having to deal with supply procurement. Many of our clients have expressed this logistical pain out loud to us. We saw a need and decided to do something about it. Jidan Cleaning can take on this tedious task for you.
Our Supply Stock-Up service will save you money. It will also eliminate the hassle of purchasing these products on your own and keeping track of your inventory. Allow Jidan Cleaning to fulfill your many office and janitorial supply needs, including:
Janitorial/cleaning products (toilet paper, all-purpose cleaner, sani-wipes, etc.)
Paper and office products (copy paper, ink and toner cartridges, paper clips, pens, etc.)
Trashcan liners
Personal care essentials (paper hand towels, soap, hand sanitizer, etc.)
Safety and first aid essentials (adhesive bandages, first aid kit, etc.)
Maintenance items (light bulbs, mops, buckets, etc.)
As part of our service to you, Jidan Cleaning will manage the ordering process to ensure you pay only for the exact quantities required. By using us as your in-house supply procurement partner, you'll be able to add the savings back into your company's budget. And no more after-work or weekend supply runs to the local "big box" office supply store. We add value by removing yet one more time-consuming responsibility from your office manager's work life. We at Jidan Cleaning are serious about becoming your full-service commercial cleaning partner. Call us at 609-714-0426 to learn more about Jidan Cleaning's convenient Supply Stock-Up service!