Need some quick and easy ways to clean and brighten your home and office for the season? Here are six simple things you can do right now to add some sparkle to your holiday cleaning routine.
1. Use the Right Products. During the busy holiday season, every extra moment of free time counts. And though you may think that using an all-purpose cleaner saves you time, it may actually have the opposite effect. Using an all-purpose cleaner is fine for some surfaces, but can be damaging to others like wood, marble, and unique finishes. Using the right products for the right surfaces will prolong their life and prevent damage while also saving you time and money.
Office Extra: Using products that are specifically meant for electronics will help you avoid streaks, lint, scratches and spots. Keep canned air or cotton swabs available to clean between the keyboard keys and other tiny spots.
2. Spruce up the Entryway. During the holidays, welcome guests by making sure that the entryway is clean and inviting. Take a few moments to step back and walk through your door with a fresh set of eyes. Start with giving the doormat a good shake, wiping down the front door, and dusting the floors. Be sure windows are clean and streak free.
Office Extra: Invest in a good entrance mat or rug. It will not only provide a warming touch to the entryway, but it will also help prevent dirt and snow from being tracked inside.
3. Deep Clean the Kitchen. Some of the sweetest holiday memories are made in your kitchen. Prepare it by making sure it's clean and organized. Look beyond the counters and refrigerator to the areas that don't get used every day. Dust the light fixtures, deodorize the sink drain with baking soda and vinegar and purge the pantry.
Office Extra: Be proactive about keeping your office kitchen clean by clearly labeling space and things and making sure employees clean up after themselves. Create a weekly checklist so that staff members can tidy up the kitchen regularly.
4. Freshen up Fabrics. Make your guests feel so comfortable they won't ever want to leave. Clean seat cushions, wash pillows and shampoo the rugs and carpets so that the fresh and clean scent of winter is carried in doors. To avoid irritating sensitive noses, choose mild detergents that add a fresh scent without being overwhelming. And take the time to spot clean items that are too large to immerse.
Office Extra: Invest in professionally deep cleaning upholstery and carpets at least once a year. Also, replace seat cushions when they start to show wear and tear.
5. Don't Neglect the Bathroom: Be prepared to accommodate the rush of holiday visitors by making sure your bathrooms are clean at all times. Stock up on extra supplies to avoid last minute shopping trips and consider adding small luxuries like lotion and tissues to help combat the negative effects of cold weather. With more guests, you'll want to clean and sanitize your bathroom more frequently.
Office Extra: Extra people means extra germs. Don't forget to clean hot spots like the paper towel dispensers, hand dryers and door handles with a disinfectant spray.
6. Bring Bold Scents: Create a sensory experience for your guests by using fresh greenery aromatic spices or oils to make your rooms smell of holiday happiness. Consider using natural and DIY products in exchange for artificial scents. Place the dishes, jars, and/or bowls of fragrance in strategic places that will give your whole environment a warm, inviting feeling. Plan to replace your arrangements every week or two to keep them going strong.
Office Extra: Choose scents that are on brand for your company's culture. Test fragrances that promote tranquility, enthusiasm, or comradery depending on what type of atmosphere you'd like to project.
Holiday Cleaning Tips Infographic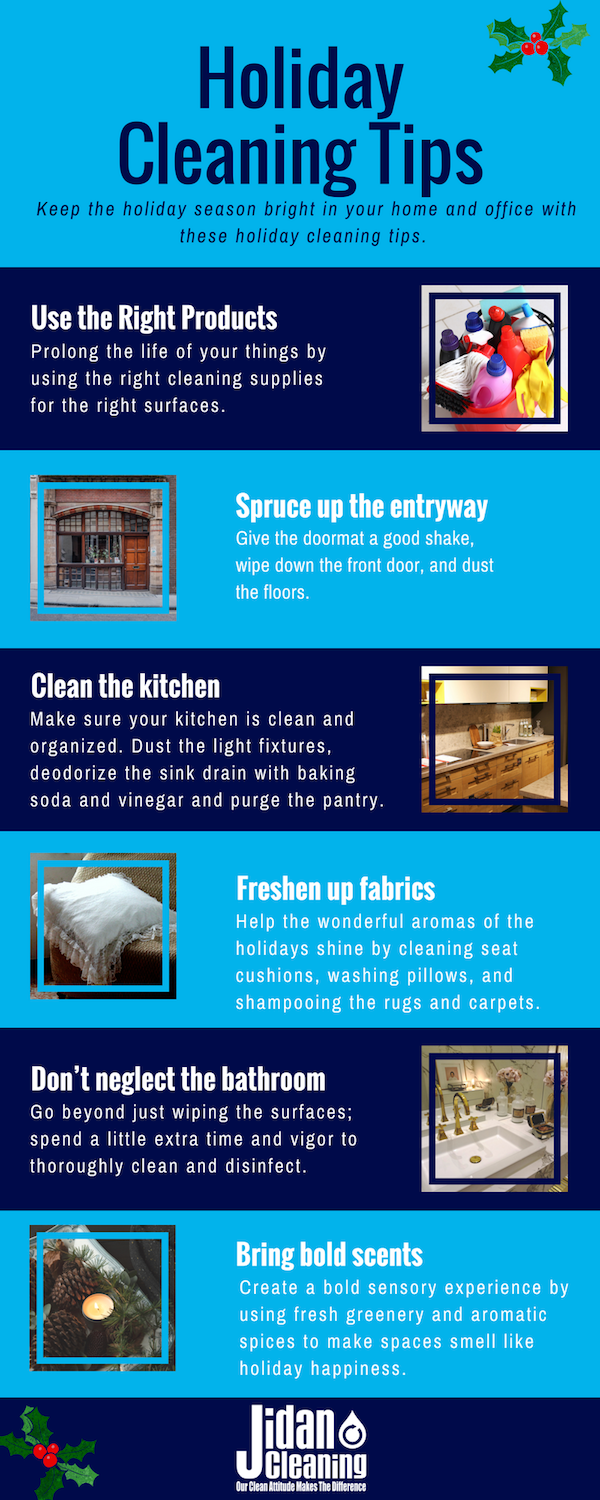 During this busy season or any time of year, if you're looking for a commercial cleaning company to assess your specific commercial janitorial needs and match the right team to your facility, call us today 609.714.0426!
If you enjoyed this article, please pass it on.