Patricia Claybrook, Founder of Jidan Cleaning, was Recognized by the Philadelphia Business Journal for Success and Philanthropy
MEDFORD, N.J., Aug. 14, 2014 – Patricia Claybrook, founder and owner of regional commercial cleaning company Jidan Cleaning, has been named a 2014 Minority Business Leader by the Philadelphia Business Journal. The winners, according to the Journal, represent not only some of the most successful minorities in the Philadelphia region, but some of the area's most philanthropic.
Claybrook was recognized in the Executives category. The 25 honorees were announced Aug. 7, 2014, during a banquet at the Crystal Tea Room in Philadelphia.
Claybrook's family emigrated from Trinidad when she was six years old. Inspired by her father's hard work ethic, she fulfilled her dream of owning her own business when she opened Jidan Cleaning in 2005 in Medford, N.J. In October, 2013, Claybrook opened another location in Philadelphia. Later that year, the Pennsylvania-New Jersey-Delaware Minority Supplier Development Council (MSDC) named Jidan Cleaning its Supplier of the Year.
"I believe that my mission as a small business owner is to provide opportunities for individuals to be able to improve their lives by being gainfully employed," Claybrook said. "Last July, I hired an ex-offender as an office cleaner. He desperately wanted a full-time position so that he could provide for his family. Since then, he has been one of our best team members. His work ethic and attitude are exemplary, and he has been a true asset to our organization."
About Jidan Cleaning
Jidan Cleaning is a full service commercial cleaning company servicing all of Southern New Jersey, Philadelphia and its suburbs. Its services include commercial cleaning, post-construction cleaning, carpet cleaning, window cleaning, floor stripping and waxing, pre/post-party cleaning and move in/move out cleaning. For more information, visit www.JidanCleaning.com or call 609-714-0426 in N.J. or 267-233-5050 in Pennsylvania.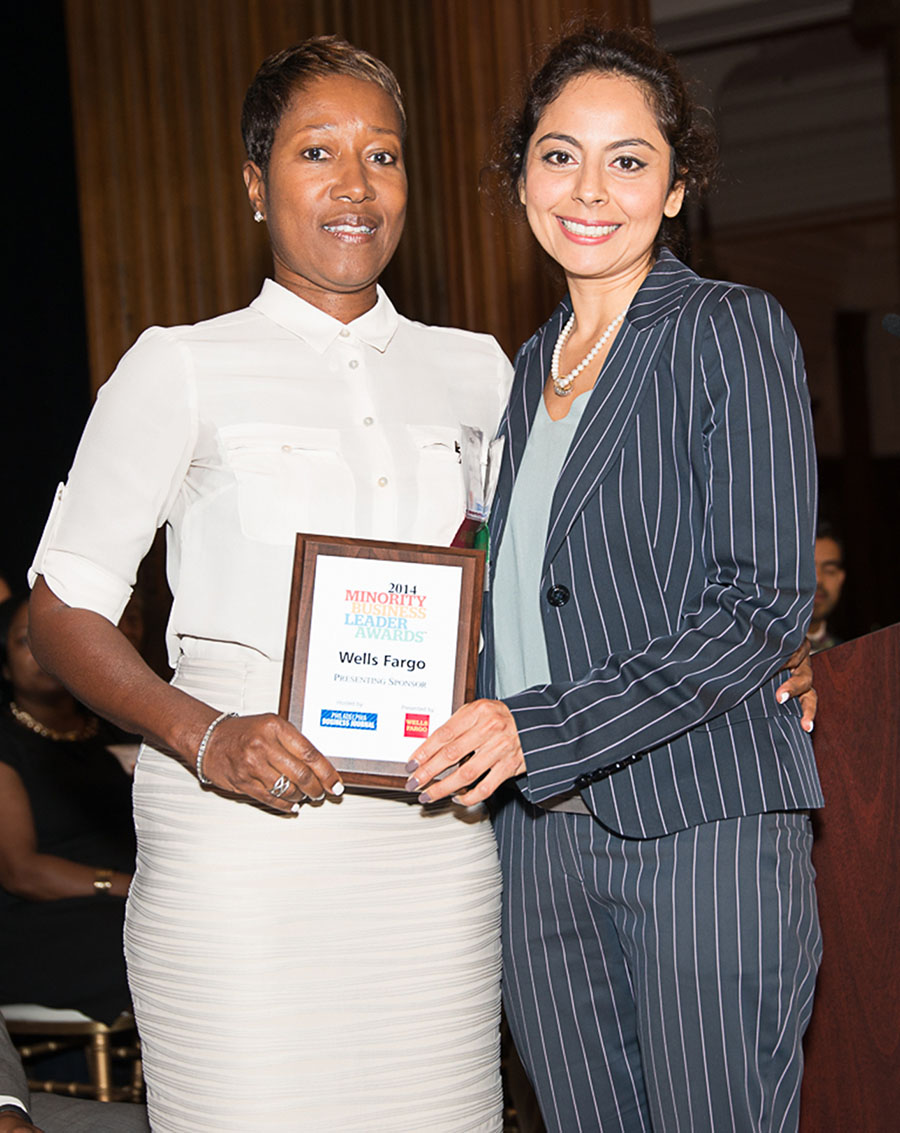 Photo caption: Patricia Claybrook (left), owner of Jidan Cleaning, accepts the Philadelphia Business Journal 2014 Minority Business Leader Award from Milady Nazir of Univision, a sponsor of the awards banquet, on Aug. 7, 2014.