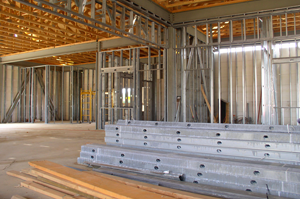 Jidan Cleaning knows the last thing a busy construction firm or contractor wants to contemplate is post-construction cleaning. You've invested substantial time and money into your commercial or residential project. But your workers create piles of sawdust and peeling drywall before construction is completed. Leaving a client's new retail store or office complex covered in an unappealing mix of industrial dust and grime is no way to finish the job. A post-construction cleaning will banish all the dust and make your creation shine! Jidan Cleaning will ensure your new construction can be move-in ready and open for business quickly. And if you need assistance hauling away small, unwanted items left on-site, we'll take care of that bothersome task. For removal of larger items like furniture, Jidan Cleaning can arrange for a dumpster. Our comprehensive post-construction cleaning includes (but is not limited to):
 Offices
Conference Rooms
Restrooms/Bathrooms
Kitchens
Hallways
Windows
Jidan Cleaning's team will leave all kitchens dust-free and ready for use. We'll clean the sink, faucets, and drain as well as clean and sanitize all countertops. Count on us to wipe down the interior and exterior of all cabinets. Jidan Cleaning ensures cleaning of all windowsills and ledges and removes any cobwebs that took up residence during construction. We also remove any stickers on windows. Our general cleaning checklist covers all walls, heat registers, vents, woodwork, light fixtures, and ceiling fans. Any glass doors will sparkle by the time we're done. We leave all hardwood or tile floors spotless.
Jidan Cleaning restores all office areas for an effortless business move-in. All closet interiors are cleaned, including shelves. Again, our general cleaning checklist includes all walls, heat registers, vents, woodwork, light fixtures, and ceiling fans. It's a given we'll clean all windowsills and ledges as well as banish those stubborn cobwebs. If applicable, we'll also clean that lovely new fireplace.
Bathrooms are a Jidan Cleaning favorite, which means you'll be pleased with the gleaming results. No toilet, sink, partition, or door will escape from a good cleaning. Depend on us to thoroughly sanitize all toilets. We give the same level of attention to all vanities, sinks, and cabinet interiors and exteriors. All closet interiors and shelves will be wiped down. Our general cleaning protocol is the same one used for all other rooms. Jidan Cleaning will clean all lights, mirrors, fixtures, and countertops. All floors are cleaned and sanitized. You know by now what will happen to any bathroom cobwebs…
Regarding janitorial closets and electrical rooms, we'll make sure these remote rooms receive a thorough cleaning. And of course, we DO windows! Jidan Cleaning knows how time-consuming it can be to remove those manufacturer labels and vacuum every single window track. This is why we include windows in our post-construction cleanings. We also clean all interior and exterior glass.
Jidan Cleaning prices its post-construction services per square foot. We put together all cost estimates based on the cleaning difficulty level of your particular structure. We take into account the number of windows, any extensive high-ladder work, and other cleaning tasks we expect will require additional time. Please contact Jidan Cleaning at 609-714-0426 with any questions regarding your post-construction cleaning needs or to request a custom quote.