Experts predict half of the U.S. workforce will be self-employed by 2020. It's no surprise then that coworking spaces are cropping up everywhere in suburbs and cities. These shared hubs offer a collaborative setting for urbanites and entrepreneurs, startups, and even tech giants.
But, let's come clean. Coworking is the Airbnb for professional nomads, wiping away the traditional office cubicles and water cooler talk. You're co-mingling with people from all walks of life in an unstructured, loft-like setting.
So, what rules apply… if any?
Whether you own a communal space or simply occupy a small corner, adopt these tips to ensure safety, cleanliness, and good 'ole camaraderie:
1.  The Environment… Howdy, Neighbor.
It takes up to 25 minutes to regain focus when startled or distracted.
Keep noise levels at a low, professional volume. Also, choose a workstation far from the front entrance to avoid high foot traffic.
And natural elements, such as sunlight and plants, improve the mood. In fact, productivity soars and so does our creativity by as much as 15 percent. Bask in the glow of a window or skylight and befriend the ficus in exchange for good vibes.
Communal spaces are typically 10 to 30 percent cheaper than traditional office space.
However, it could still hit your pockets where it hurts. Tapping into an unsecured Wi-Fi hotspot, leaving intellectual property behind, or holding a private conversation, is tricky. Be mindful of your belongings, and if you're an employer or owner of the space, have a liability clause for stolen or tampered property.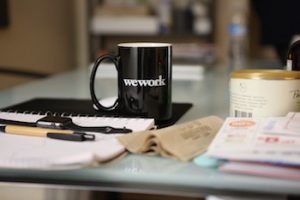 2.  The Security… Never Go Lights Out.
Exterior parking lots should be well lit so that people can be recognized from 25′ away.
And did you know… bushes and shrubs should be no taller than 36″? Strict building codes keep windows free from obstruction, which tends to deter crime. Take other precautions like deadbolt locks on the doors, security cameras, and a gatekeeper to monitor incoming and outgoing activity.
Roughly, 200 U.S. companies allow parents to work remotely.  
Many coworking spaces are adopting a "babes at work" policy, offering a sanctioned area for childcare and play. While this keeps mompreneurs happy, there's a resolve for wellness perks too. Gyms and libraries give these hybrid offices a spa-like quality and a healthy charge.
Reports show that remote workers feel more like their authentic selves in a shared space. Let's keep it that way. Owners and operators need to enforce stringent policies on non-discriminatory behavior in addition to eliciting a harassment-free work environment. Written guidelines and visible branding in all marketing materials means the operator is serious about workplace safety and equality.
3.  The Cleaning… Leave It To The Experts.
Fifty percent of people with asthma have attacks triggered by allergens, such as molds, dust mites, and animal dander.
Coworking spaces are home to a wide influx of people, and health hazards are a natural byproduct. For this reason, hiring a commercial cleaning company is essential. Be sure to look at their menu of best cleaning practices to be sure they're sanitizing surfaces with chemically sensitive, non-toxic products.
At Jidan Cleaning, we use a unique patented formula designed by EnvirOx®– only two dilutions yet it kills stubborn bacteria on contact. Specialized, private label products are not accessible everywhere, so take full advantage.
Green buildings, including eco-friendly cleaning, also drive an estimated $54.2 million in waste savings.
If your cleaning crew comes armed with paper towels or other non-recycled materials, take it as a red flag. We reduce the carbon footprint and save on supply costs by using microfiber cloths. Because this non-woven fabric dries faster than traditionally woven or knitted cloths, retention of germs and bacteria is seriously diminished. This translates into a safer and more hygienic environment.
People can't enforce what they don't readily know… or recognize.
Ask your cleaning professionals for tips on upkeep for coworking spaces. We encourage office dwellers to dispose of their food that same day. The kitchen is a hotbed for scraps and pilings, as well as germs and odors. Place signage around common areas outlining proper maintenance and dispense hand sanitizer and all-natural disinfecting wipes to neutralize workstations and conference tables.
Green means clean, and your well-being means… everything.
For more information on how we service clients and remain earth-friendly get in touch with us today.
If you enjoyed this article, please pass it on.